SHARE
12 TikTok Beauty Hacks you've Probably Never Heard of
TikTok is a great source of tips, hacks, and recommendations for all things beauty and makeup related. But with over a billion active monthly users, it can be hard to find the best advice to follow. Luckily, to save you time and effort, we've rounded up 12 TikTok beauty hacks you've probably never heard of to improve your daily makeup routine!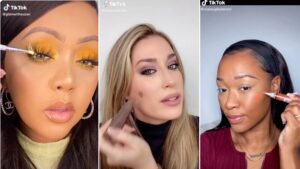 How to Make your Perfume Last Longer
Do you ever find that your perfume begins to fade after just a few hours? Check out this TikTok tip on how to keep your scent going all day long! With just a touch of Vaseline, you can lock in your perfume for hours longer and avoid having to reapply throughout the day.
Easy Eyeshadow Hack
If you class yourself as a total eye makeup novice, this hack is the perfect way to venture into the world of bold eyeshadow looks with minimal risk of mess-ups. Just use your favourite neutrals palette to fill in different areas of your lid, going from light to dark. Then just blend out for a simple but stunning smokey eye!
Perfect Lips Every Time
Want a lip filler look without the pain of cosmetic surgery? Contouring is the best choice for you. With just a tiny bit of powder or stick contour, you can achieve a plumped look in just minutes!
Simple Soap Brows
Soap brows are one of the biggest beauty trends of 2022, so use this simple tutorial to master the perfectly fluffed-up arches and frame your face. Budget-friendly and long-wearing, this tutorial is a super-easy way to stay on-trend and sculpt your brows beautifully.
Fake Tan Contouring
This hack is perfect for summer if you plan on going bare-faced on the beach but want to stay looking snatched all day. Contour your face subtly with fake tan to achieve chiseled bone structure without heavy contour or powders – the easiest way to stay natural and bronzed!
Eyeliner for Hooded Eyes
Do you love a sleek cat-eye but feel like liner doesn't compliment your eye shape as it should? This tutorial is exactly what you need. If you struggle to line your hooded eyes, MUA @scortezzbeauty recommends the bat wing shape. This liner style will give you the gorgeous cat-eye effect that you want without sitting oddly on your lid – try it out to see if it suits you!
Make your Foundation Full Coverage
This hack is perfect for all my oily skin sufferers out there. If you find your foundation is just not providing the coverage that you need, try adding your favourite setting powder into the liquid foundation before you apply it. You'll get plenty of added coverage, plus the powder in the foundation will keep any oils at bay for hours on end.
Contouring a Round Face
Contouring can be tough if you have a naturally cherubic face – not all of us can have the chiseled jaw of a Hadid sister! This technique is a great way to provide structure without making it look like you've smeared contour everywhere, so test it out and see if it works for your face shape.
Flawless Base
When you need flawless-looking skin that will last all day, try out this simple hack. Translucent powder on the skin before your primer and foundation will ensure your skin stays oil-free and radiant for hours on end, without the need for reapplication or touch-ups.
Blush Placement Tips
Blush can be a difficult one to figure out – opt for the wrong placement and you can easily look like Coco the Clown. Thankfully, TikTok user @stxph.h has some great tips on the best ways to apply blush for a rosy, sun-kissed complexion. Top tip – if powder blush is appearing heavy on your skin, go for a liquid blush instead for a more natural look!
Instant Flawless Brows
Do you find your brows are looking too 2016-y after applying your brow powder or pomade? It might not be your fault – your brush might just be worn out! Check out this useful hack to see how to tighten up your brush and keep your brows looking natural and sleek.
Avoid Cakey Foundation
Are you finding that your foundation is sitting on your skin, rather than blending in seamlessly? Check out this TikTok to see if you're missing out on any of these key steps! A hydrated base and the right primer are key to a natural-looking base.
Clara Heffernan
View more tips from Clara Heffernan