SHARE
An Easy Guide to Second-Hand Fashion
Staying up to date with the latest designer trends and styles can be expensive and time-consuming – not to mention wasteful! In the UK, it is estimated that around £140 million worth of clothing ends up in landfills every year. So rather than chucking away half your wardrobe every season and stocking up on Pretty Little Thing's latest collection, we're here to teach you how to scout out the best second-hand gear on the market right from your mobile. We've got an easy guide to second-hand fashion, so you can develop a unique sense of style and save the planet at the same time!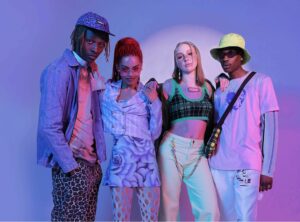 Ideal for: trendy statement pieces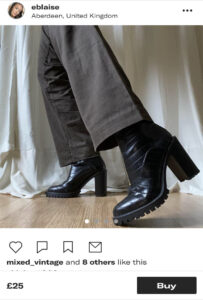 Depop is one of the most popular choices when it comes to buying and selling old clothing, shoes, and accessories. Whether you're looking for the latest pair of Nikes on resale, some vintage Prada, or the 90s comeback pieces you've seen on your Instagram feed, Depop has so much to offer. 
Depop works primarily as a mobile app, so signing up only requires a phone number. From here, simply create your username and a whole world of vintage fashion is yours! You can enter your sizes and clothing preferences, follow other users, and search for specific items. 
Unsure about a seller? Check their ratings to see if they are reliable and trustworthy. In a worst-case scenario, you'll be covered by Depop's Buyer Protection to ensure you receive a full refund if your item does not arrive or is not as described. If you're looking to start making money off clothes you don't wear anymore, you can start selling straight away by simply uploading a few photos and describing your items.
If you're still unsure, check out this roundup of the best Depop sellers to convince you to pull out your phone and get shopping now!
Ideal for: wardrobe staples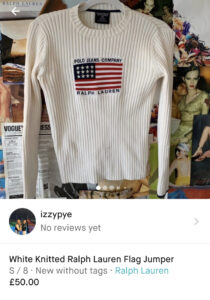 Vinted already has over 45 million members buying and selling their pre-loved items. Similar to Depop, you can get started straight away by signing up and listing your items with no selling fees or strings attached. On Vinted, you can bag so many high-quality items – Ralph Lauren, Nike and Levis can be all found at an amazing price simply because people want to refresh their own wardrobes.
Vinted is super user-friendly – with their website and app, you'll be able to keep an eye on your sales and purchases wherever you are. The only slight downside is that, as a seller, you don't get paid until your item is received and checked by your buyer. However, if you're willing to be patient, this shouldn't present any problems. Plus, as a buyer, you will benefit from this system, since your money is protected until you say you're satisfied with your purchase.
Ideal for: fresh furniture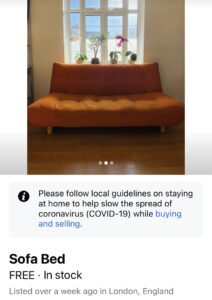 Facebook Marketplace is often overlooked, but it's an excellent way to spot great local bargains near you, particularly if you're on the lookout for homeware or furniture. If you're on the hunt for a great restoration or DIY project, Facebook Marketplace should be your first stop.
Using your Facebook account, you can explore Marketplace easily as a buyer – message people to haggle prices, ask questions or organise collections. A lot of the time, people are even looking to get rid of items for free as long as you're willing to collect it. If you wish to list your own items, all it takes is a few quick photos and a product description to get started. You can stay local and make money off your items!
Ideal for: unique gems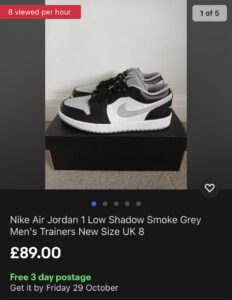 The old reliable eBay still holds its place as one of the biggest clothing resellers, with 159 million worldwide users currently active. On eBay, the feature of bidding on items is unique and can allow you to get a bargain that you never anticipated.
eBay is perfect for the niche collectible that you've spent years scouring charity shops for – specific editions of books, a limited release vinyl that you never thought you'd be able to bag; they can all be yours! 
However, when it comes to fashion picks, bear in mind that eBay does not have an authentication team like Depop or other fashion reseller websites do. This means that designer fakes and imitations are far more widespread, so always exercise caution when purchasing. Sometimes, if it seems far too good to be true, it is!
Charity Shopping
Ideal for: anything and everything
The traditional method of bagging a vintage bargain at your local Age UK, Cancer Research, or Mind charity shop is still just as good as all these trendy apps and websites! You can find so many amazing and unique fashion bargains in your high street charity shop, and they're often cheaper than you may find them on Depop or Vinted.
When it comes to charity shopping, it's key to get to know your way around. Some charity shops in certain areas have amazing finds. Or, if they do restocks on certain days of the week, getting there at the right time means the best finds can be yours. 
Furthermore, certain fashion brands partner with charities to supply them with old stock. So, if you are a fan of Zara or H&M clothing, head to your nearest British Red Cross to get some amazing high-street pieces at a fraction of the price!
Beauty and Home Club
Administrator
View more tips from Beauty and Home Club