SHARE
Best Budget Dupes for High-End Beauty Faves
Being a makeup lover is certainly not a cheap hobby. In 2020, it was estimated that the average British person spent £400 on beauty products – although, for a beauty addict, this may seem like nothing. With 'holy grail' products seeming so tempting, it can be hard to keep to a budget when it comes to beauty hauls. To help you stay looking fabulous while watching your spending, we've compiled a list of the top ten best budget dupes for high-end beauty faves on the market. With these picks, you can treat yourself without breaking the bank!
Yves Saint Laurent Touche Éclat – Maybelline Dream Lumi Touch Concealer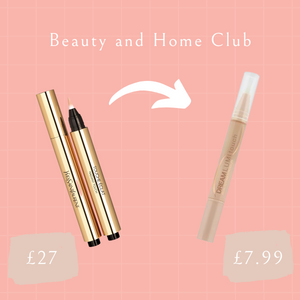 A reliable concealer is a staple in any makeup lover's tool kit. Yves Saint Laurent released their Touche Èclat way back in 1992; since then it has achieved a cult-like status in the makeup community, with six pens sold every minute worldwide. Technically, Touche Éclat is not a concealer, but rather a brightening pen. However, its amazingly buildable coverage and hydrating, silky finish is quick to banish dark circles and imperfections with ease. But all these superpowers do not come cheap; 2.5ml of this magical product will set you back £27. 
Thankfully, Maybelline has a pen rivalling Yves Saint Laurent's creation. The Dream Lumi Touch concealer unites hydration, illumination and coverage to create a buildable but lightweight concealer that could fool any makeup aficionado. At just £7.99, this dupe will save you almost £20! While Maybelline's shade range is more limited, it's worth the switch if you can colour match easily. 
Too Faced Better Than Sex Mascara – L'Oreal Lash Paradise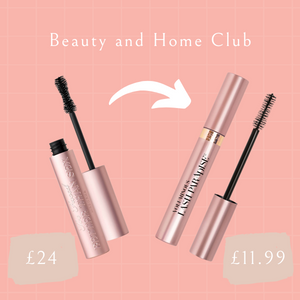 Too Faced's holy grail mascara is, as the name suggests, one of the best on the market currently. Offering volume and length to rival a pair of falsies, it's no wonder that people splash out a hefty £24 for a tube of this miracle mascara. But there must be a better option than spending all that money on something you're supposed to replace every three months?
Thankfully, L'Oreal stepped up to the plate and delivered Lash Paradise – a formula so good, it replaced Better Than Sex in many a makeup bag. At £11.99, it still might seem on the pricier side of 'budget makeup', but trust us, this one is worth it. 
Charlotte Tilbury Hollywood Contour Wand – Makeup Revolution Eye Bright Concealer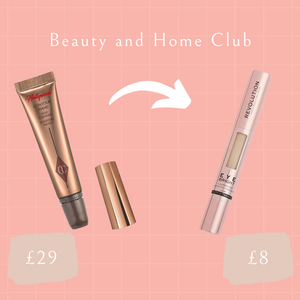 Charlotte Tilbury is undeniably a high-quality makeup brand. The sheer number of cult products they have (their Hollywood foundation, Pillow Talk, Magic Cream, to name a few) is a testament to their product formulation. Their Hollywood contour wand has taken TikTok by storm, with influencers and makeup artists dotting it along jawlines and cheekbones for instant killer bone structure. But at £29 for just 10ml of product, surely we can do better?
Well, NYX's Makeup Wonder Stick is certainly a close competitor. However, for the closest dupe, you'll need to head to Makeup Revolution to bag their Eye Bright Concealer. Although this technically is marketed as a concealer, choosing a dark shade can give you a phenomenal contour that accentuates your bone structure without appearing muddy or heavy on your skin. Enriched with Vitamin C, this concealer can be kind to your skin while contouring you a whole new snatched complexion!
MAC Studio Fix Foundation – Maybelline Fit Me Foundation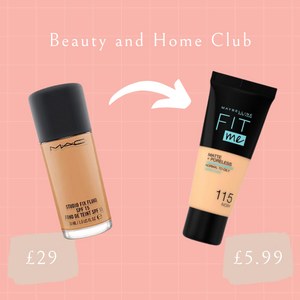 MAC's Studio Fix has been a staple on runways for years, offering a buildable, blendable base for flawless-looking skin. With a huge range of shades and undertones, this foundation is understandably popular across all complexions. 
But if the thought of spending £29 on a pretty measly 30ml of product makes your eyes water, never fear – we have the perfect dupe for you. Maybelline's Fit Me foundation offers a similar silky and blendable texture and has some serious staying power. Like MAC's Studio Fix, this foundation is perfect for any oily skin sufferers out there; with Maybelline's Fit Me, your foundation will stay in place all day and keep you looking poreless and matte. With a similarly wide shade range, you'll be sure to find the perfect fit for your skin tone. 
Olaplex No. 0 Intensive Bond Building Hair Treatment – Knight & Wilson Pureplex Revolutionary Hair Repair System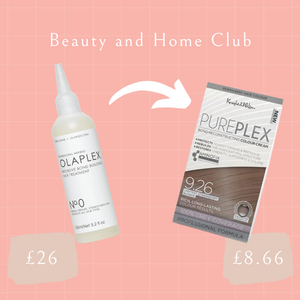 Olaplex is a favourite of celeb hair stylists because of its amazing repairing power. If you're suffering from over-bleached or heat damaged hair that you thought was well beyond rescuing, Olaplex can save you. But at £26, this comes in right at the high end of even the most expensive products on this list. You may think Olaplex is unmatched, but we have a holy grail budget pick that you have probably never even heard of!
Knight and Wison's Pureplex Hair Repair offers you an amazing alternative to Olaplex. You'll see the same results but at very different price points. Costing just £8.66 with a special discount, this haircare miracle offers resuscitation for dry, damaged hair at a third of the price! It is true that a bottle of Knight and Wilson's Pureplex might not last you as long as the Olaplex, but given that you could buy two bottles and still be saving money, that hardly seems to matter!
Fenty Gloss Bomb – Maybelline Lifter Gloss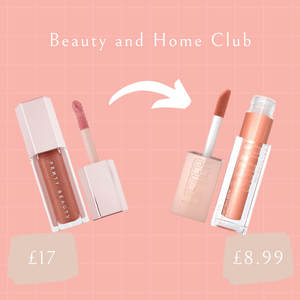 There's no denying that Rihanna has killed the game when it comes to skincare and beauty. Fenty has taken the beauty world by storm and developed a ton of cult followers with its amazing product range. Rihanna's brand doesn't come cheap though, with the Fenty Gloss Bomb costing £17 for 9ml of product. What's out there for someone who wants a super-glossed pout and doesn't want to break the bank?
Thankfully, Maybelline has come through once again with a top-notch dupe that Rihanna herself would struggle to pick between. Their Lifter Gloss contains hyaluronic acid to moisturise and plump lips, leaving you with a stunning sheen. Even better, Maybelline's actually seems to have Fenty beat when it comes to shade range, with more colours on offer. At just £8.99, that seems like a good deal to us!
Nars Orgasm Blush – Sleek Rose Gold Blush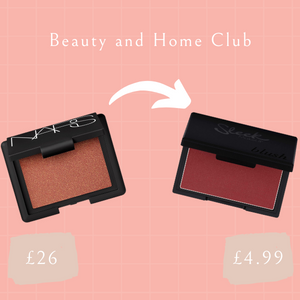 This iconic blush from Nars has long been a staple of every beauty blogger's 'must-have' list. This shimmery rose shade is a favourite of celebs like Kim Kardashian. But if you're not on a Kim Kardashian budget (because let's face it, who is?), Sleek offers an almost identical alternative for a fraction of the price. When it comes to appearance and packaging, it's impossible to tell these two apart. In terms of shade, you may notice a little more shimmer with the Nars blush, but it's hardly a recognisable difference when applied. With a saving of over £20, it's definitely worth making the switch.
Yves Saint Laurent Black Opium – Zara Gardenia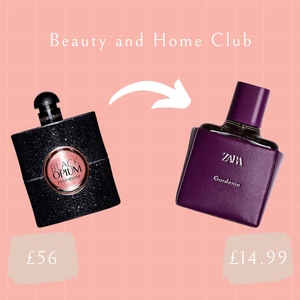 Since Zara came out with its fragrance range earlier this year, beauty bloggers everywhere have been raving about them. The entire range can be compared to high-end fragrances, but a particularly close match has to be Gardenia, which is an almost exact dupe of YSL's iconic fragrance, Black Opium. With base notes of vanilla, patchouli, and cedar, Zara's Gardenia matches Black Opium so closely, it would be a struggle for most to tell them apart. With the Zara fragrances coming in at under £20, the savings here are staggering. The only struggle might be getting your hands on these wildly popular scents – pop into your nearest store to see availability.
Benefit Gimme Brow – Rimmel London Brow This Way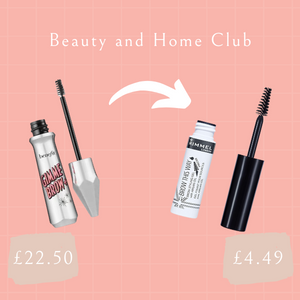 Benefit products are irresistible; the cute packaging, the amazing products, the fun colour ranges, it's a recipe for disaster for a vulnerable beauty addict trying to stick to a budget! Their Gimme Brow is no exception to this. It offers natural-looking fullness and body to your brows, without the heavy look you often get with a powder or pomade. But given that Gimme Brow goes for £22.50, a budget-friendly option is definitely in order.
Thankfully, Rimmel London can offer Brow This Way, an equally powerful brow gel with a somewhat less satisfying pun for a title. Although this alternative is a clear gel, it offers amazing hold and definition. You can be sure your brows will be staying put all day with this in your makeup bag. If you feel you need a little more pigment, use in tandem with the Rimmel London Brow This Way pencil to add some extra colour. Both of these products together still come in at half the cost of the Benefit Brow Gel – what a result! 
Huda Beauty New Nude Palette – Morphe Madison Beer Channel Surfing Artistry Palette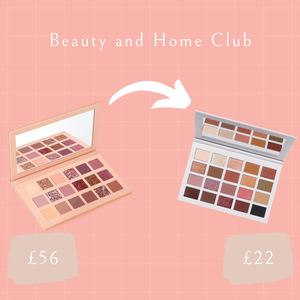 Huda Beauty, started by American makeup artist and blogger Huda Kattan, is known in the makeup world for making stunning eyeshadow palettes. But at £56, her New Nude palette is an insanely huge splurge for 18 shades. Thankfully, Morphe's collaboration with Madison Beer birthed an eyeshadow palette to rival Huda's in pigment, colour range and glamour. The Channel Surfing Palette has direct dupes for almost all the shades in the New Nude palette, plus a few extra earthier shades to darken up any neutral look. At less than half the price of Huda's New Nude, the Morphe palette is the clear winner.
Clara Heffernan
View more tips from Clara Heffernan