SHARE
Ten Ways to Brighten up your Home for under £100
When you're finally renting your own property, it can be surprisingly difficult to make it feel like your own home. It's even harder if you're renting and have to follow strict rules about decorating or renovating. If you're desperate to inject some personality into your pad but aren't sure where to start, we've got you covered – read on to find out our top ten ways to brighten up your home for under £100! Get started on sprucing up your space on a budget.
Family Photos
Traditionally, family photos were something meant only for private rooms such as bedrooms; in reception rooms, artwork was purely aesthetic, and sentimental photos of loved ones were seen as too personal to display for guests. However, things have changed a lot over the past fifty or sixty years, and the rules of interior design have changed too. Nowadays, a lovely way to bring some personality to a home is to put up photos of the most important people to you! You don't need to splash out on an expensive studio photoshoot; simply head over to Photobox for great deals on canvases and framed photos which are sure to brighten up your home for under £100. 
If you want something more understated, opt for some framed photos dotted around on coffee tables and cabinets; these are subtle but will add a touch of character to the surfaces of your home.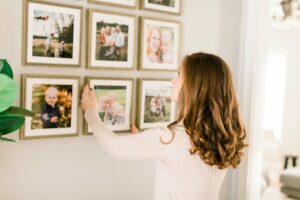 Shop for Houseplants
A simple way to spruce up any space and inject some colour into your home is to invest in some gorgeous houseplants. As well as looking gorgeous, they're really good at purifying the air in your home and keeping your environment clean, so you'll feel better too! 
Worried about being a houseplant murderer? Start off with some really easy 'unkillables', like a snake plant or aspidistra, which will spruce up your place without demanding constant care. Pop any plants on a bare-looking windowsill or shelf for some instant life in your home!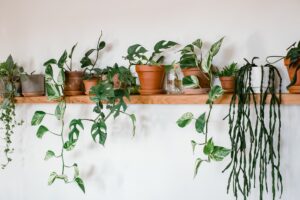 Rugs and Mats
Rugs are such a versatile and useful piece of furniture, but they're so often neglected. If you're struggling to create warmth in a living room, tucking a large rug under your coffee table and sofa is a wonderful way to add some cosiness. Plus on hardwood floors, a rug is so comfortable and warm. 
If you have opted for super bold interior design choices, a mellow rug in neutral tones (like this one from Dunelm) would be the best choice. On the other hand, if your room is lacking colour or seems drab, a bright rug (like this one from Wayfair) adds so much zest to any room.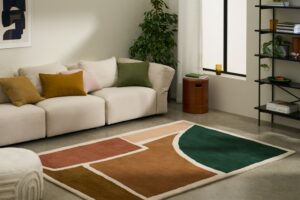 Add 'Tiles'
If you're renting, chances are you have experienced being charged a ridiculous fine for leaving one blu-tack stain on a bedroom wall, and you don't want to go through it again. But if your rental property is super-dull, stick-on tiles are a great way to add colour and pattern to your home and, even better, when the time comes to move out, simply take them down and it'll be like you never changed a thing! It works really well for a dull fireplace, a kitchen splashback, or even a bathroom floor.
Make sure to read the instructions really carefully before you apply, and opt for easy-removal tiles like these ones from Amazon. This way, when it comes to moving out, you'll be able to easily remove the tiles without damaging the wall or floor underneath.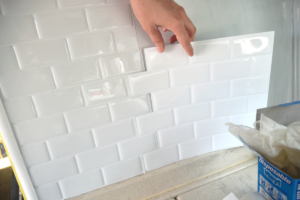 Hang Art on your Walls
A simple but effective way to jazz up your rental is to hang up some of your favourite pieces of art. If you have no idea where to start, do some research! Have a look on Pinterest boards, Instagram, the Architectural Digest website – wherever you can think of. Get an idea of what you like – maybe you're a bold and bright type of person, or perhaps more neutral and chilled-out. What is most important is that the art on your walls brings you joy when you look at it. It will undoubtedly be an improvement on the bare walls you might currently have, and you will love admiring your own choices every day when you pass them.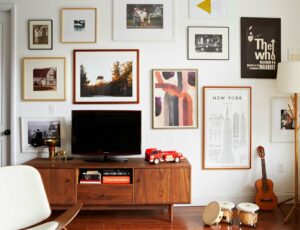 Stock up on Command Hooks
After purchasing all your lovely art pieces, think carefully about how you choose to hang them up. Nails are an obvious no-go, and blu-tack might seem safe, but it can actually leave residue on the walls that your landlord could charge you for. Command hooks and strips are an amazing option when it comes to hanging your photos or art; they're super strong, and they leave no damage or staining on your walls when you're ready to take them down. They may seem pricier than a packet of blu-tack, but trust us, in the long run, you will be glad you shelled out an extra £3 to get these!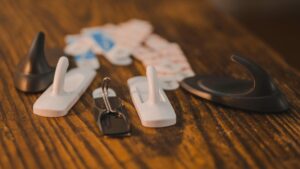 Add Pops of Colour
Often, when you rent out a property, you'll likely find it quite grey or plain, simply so it's easy for anyone to move in and not be offended by garish colour schemes or decor. While this might make sense from a landlord's perspective, it's not much fun for you as a tenant. So, to add some character to your place, don't be afraid to add splashes of colour wherever you can. Whether you're able to splash out on a bold sofa, or just a few cushions and brightly-coloured placemats – it will make a huge difference to your place.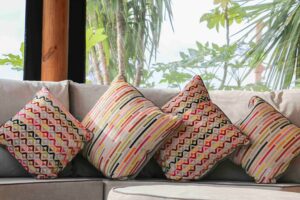 Dot Around some Lighting
Often, a landlord is unlikely to dish out money for soft furnishings and lamps; they're unnecessary, and just something else for a tenant to break. But this attitude can leave rental properties feeling stark and unwelcoming due to one swinging lightbulb in a room amidst no other sources of light. To soften your place and make it more inviting, add some gentle lighting, like some lamps or fairy lights. You wouldn't believe what a difference it can make to a space, and you'll feel so much cosier with a gentler lighting arrangement.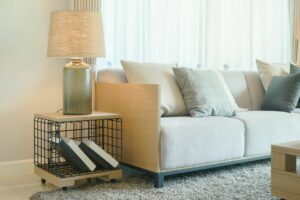 Clear Some Stuff Out!
Okay, don't actually chuck things away, but if your landlord has opted for some interior design choices that you really can't stand, there's nothing wrong with popping them in a cupboard or under the bed until it's time to move out again. Canvases featuring stock photos of New York or unattractive ornaments can really detract from the space and make you feel like a guest in your own home, so don't be too shy to hide the questionable decor choices and replace them with your faves! It's completely within your right to do this, as long as you keep a hold of these decor pieces and put them back as they were when you move out. 
If it's bigger pieces that you can't stand, like a sofa, never fear. Pick up a cheap and cheerful throw rug to drape across it and brighten up your place – you'll feel like it's a completely new piece of furniture!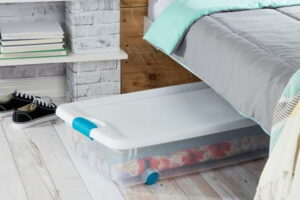 Separate your Spaces
If you live in a very open-plan space, it can sometimes feel too empty and spacious. To make your individual rooms cosier, the use of screens or curtains to divide up space is the ideal solution. Even if you only have one large kitchen and living room space, segment off an area for work, or section off your dining space just for entertaining. Screens are a convenient way of creating these intimate spaces without doing any big renovations, allowing you to make a home your own on a budget.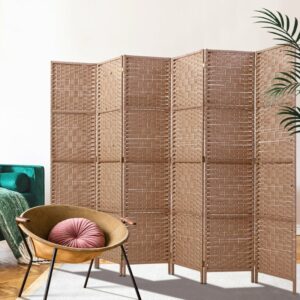 Clara Heffernan
View more tips from Clara Heffernan