SHARE
12 Easy DIY Christmas Decorations You Can Make at Home
Christmas seems to come around quicker every year – suddenly it's mid-December and the whole house needs decorating! Feeling bored of your old boxes of tinsel, or tired of the same old decorations on the tree? Well, never fear – we have collected a whole list of homemade decorations and trinkets that you can dot around your house to add some DIY'd festive cheer! You can enjoy time with your family with these 12 DIY Christmas decorations you can make at home.
Who can make these Decorations?
Whether you're a total crafting novice, or a pro with your very own glue gun and pipe-cleaners, you'll find something new to try this holiday season. If you're at a loss for affordable and fun Christmas activities this year, making decorations together is a wonderful way to get everyone involved and enjoy some much-needed family time! There are plenty of kid-friendly tutorials included, so get the whole family around and pop on some Christmas tunes while you get creative around the kitchen table.
If you want to encourage a little competitive spirit, offer up a fun Christmas prize for the best decoration. They don't have to all turn out perfect – the whole point is that they're homemade and unique to your family!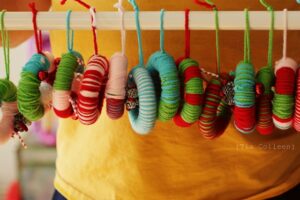 We're starting off easy with these adorable yarn wreaths. They make gorgeous tree decorations for any home, and the tutorial is so easy to follow. All you need is some coloured yarn and some mini polystyrene wreaths, which we found super cheap here on Baker Ross. Then just let everyone get creative! You can include as many extras as you like – mini bells, glitter, pom poms – it's all up to you. They remind us of cosy Christmas jumpers! This craft doesn't require too much messy glue or scissors if you don't want it to, so it can be super safe for little fingers to DIY at home.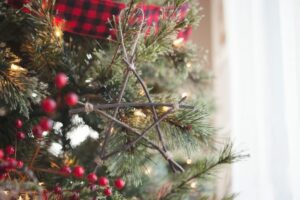 This decoration is perfect for that authentic, 'barnhouse-chic' look this winter, plus it's super easy. All you need are some good twigs and a few basic crafting tools. If you're heading out for a festive winter walk with the family, get the kids involved by asking them to find the best twigs they can for this project! The designs you craft are completely up to you, so get creative! Stars, trees, snowflakes – draw inspiration from Christmas images around you and have fun with bringing the outdoors inside this winter!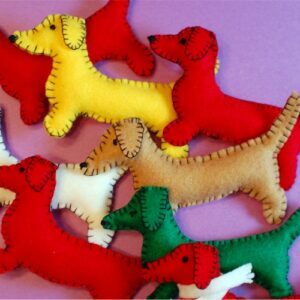 Now, this one may require a little more time and skill, but it is so worth it for how cute your decoration will turn out to be! With some felt and a few basic sewing tools, you can have an adorable sausage dog companion for Christmas. Even if you're not an experienced seamstress, it's worth having a go at this adorable DIY – it's super easy once you get the hang of it. You can hang these on your tree or, if you have an animal-obsessed bestie, this would make the perfect tiny stocking filler!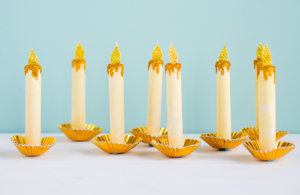 These adorable paper candles will add a classic Downton Abbey-esque touch to your Christmas tree, and they're so fun to make! With just some cupcake cases, paper, and glitter, you can have some amazing decorations to jazz up your home. Top tip – don't hold back on the glitter for this one! You want the flame of each candle to really catch the light and sparkle on your tree or in your home!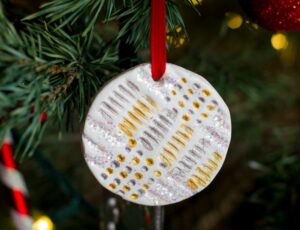 Salt dough decorations are amazing because they allow for maximum creativity while requiring minimal effort! You can make whatever festive decoration you like – a Christmas wreath, stocking, star… the world's your oyster! Just allow the ornaments to dry overnight and then decorate as you like. For a more natural, rustic look, you can always leave them plain and add textures or patterns before they harden.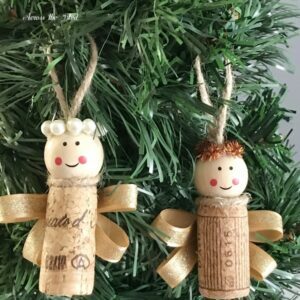 At Christmas time, it's likely that you'll have plenty of wine corks hanging around to use for this crafty tutorial. These decorations are so cute, and everyone can enjoy personalising theirs with different colours, ribbons, or faces. If you make enough of these, you can string them together and make an adorable garland of angels to hang on a fireplace!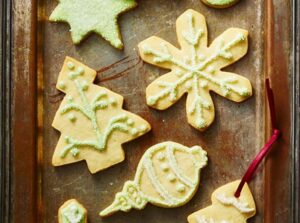 What's even better than just making decorations? Being able to eat them! These Christmas cookie ornaments are so easy to make and can be decorative and tasty. These make an adorable gift, plus small children will love the opportunity to ice their own biscuits and see them hanging on the tree.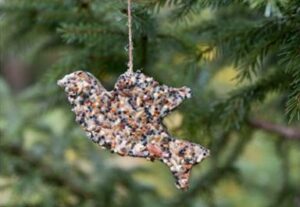 These birdseed ornaments are a treat to look at and a treat for the birds in your garden too! You can use any cookie cutters that you have at home, or spend just £4 on these to use throughout Christmas. All you need is some coconut oil, bird seed and twine, and hopefully, someone to help you hang them all over your back garden as a gift for the wildlife in your area.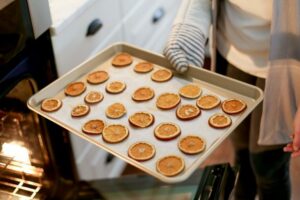 These dried orange garlands are so simple to make and they bring a gorgeous natural touch to your home. All you need is a few oranges and some twine for the basic garland, and then you can add whatever extras you like – some cinnamon sticks, dried cranberries, faux greenery – whatever takes your fancy! Hang it above any doorway for a warm festive feeling in your house.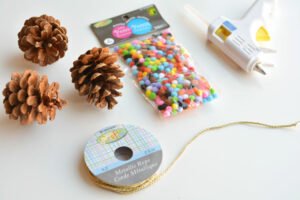 We love the combination of natural elements and pops of colour this decoration adds to your Christmas tree! Pom poms are an adorable way to brighten up the pinecones, but you could also add glitter, yarn, ribbons, or anything else that could add a bit of flair to your decoration – it's all about keeping them unique and individual! Similarly to the wine cork angels, a whole garland of these decorated pinecones would look adorable in any home.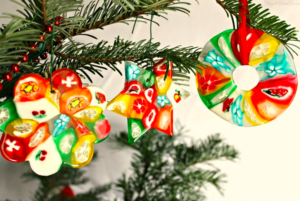 Hard sweets that sit at the bottom of your handbag are probably desperate for a new life on your Christmas tree! Repurpose these sad sweets by melting them down in unique cookie cutters – you'll be left with a gorgeous decoration that looks like stained glass against the decorative lights on your tree.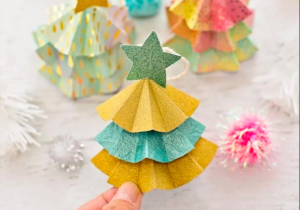 These free-standing Christmas trees look so charming on any coffee table or mantlepiece that you have space on! Just create the tree model from the template, and then let everyone decorate their own tree exactly how they want! Add glitter, pom poms, or paints to let everyone bring their tree to life. Add some twine to the top of the trees if you want to make hanging decorations or a garland, or just dot them around your house to add some Christmas cheer.
We hope you love these adorable DIY Christmas decoration ideas for 2021, so get crafting and enjoy creating memories together!
Clara Heffernan
View more tips from Clara Heffernan