SHARE
How to Celebrate New Year's Eve at Home
New Year's Eve is a great time to gather together with friends and family to appreciate the year you have had while looking ahead to a new year full of opportunity. There are undoubtedly loads of exciting events going on, but with the Covid-19 pandemic, you might be apprehensive about a long night with large crowds. Plus, these parties are such an expensive way to ring in the new year! Why not invite over a few friends and welcome 2022 with your nearest and dearest in the comfort of your own home? We've got loads of great tips for how to celebrate new year's eve at home – get prepping now!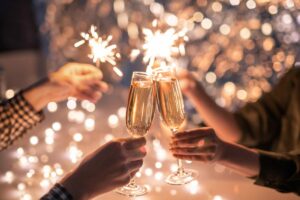 Toasting to the New Year
One of the most important elements of a New Year's Eve party is the drinks. While it's super chic to whip up a complex signature cocktail with different spirits, liqueurs, and syrups, you have to bear in mind that you'll need to be making them all night, so a complicated drinks recipe will leave you slaving away in the kitchen for a long time! Instead, perhaps opt for something a little more simple and effective. A gorgeous bellini can be made by combining small amounts of pomegranate juice, cranberry juice, and a large pour of prosecco. These are ready in seconds and look gorgeous when being served up to your guests.
As well as some impressive cocktails, make sure you have beers and wines available for people who aren't prosecco fans. Plus, ensure some fun mocktails or alcohol-free beers for any designated drivers! A great host always anticipates the needs of all their guests, including any non-drinkers.
Keep your Guests Fed
Although you might not be hosting a full dinner party, people will still get hungry as the hours tick by in the run-up to midnight. An easy way to keep people full with relatively little effort is just to dot around some bowls with crisps, olives, and nibbly snacks. If you want to impress a little more, have a go at some canapes and hors d'oeuvres for your guests. Check out this huge list of recipes and find something that takes your fancy for New Year's Eve.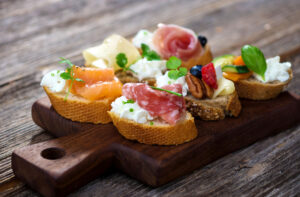 Game the Night Away
It might seem like New Year's Eve is full of fun and festivities, but it's always good to have some games or mingling events ready just in case you hit a lull before midnight. A classic game of Pictionary, Guess Who, or Charades is a great way to pass the time and have loads of fun. If you're stuck for anything more exciting, ask your guests to bring along their favorite party games – you'll have the fun of playing something new, and you can get to know your guests better through something they enjoy.
If you're up for more of a challenge, organise a big New Year's Eve quiz for all your party guests! Include loads of fun topical categories relating to 2021 like politics, music, pop culture, and science. Get your guests into teams and encourage some friendly competition by offering a bottle of prosecco to the team who wins – the hours will fly by and it will be midnight before you know it!
Curate a 2021 Playlist
Thanks to loads of different streaming platforms like Spotify, Apple Music, and Amazon Music, you can build your own playlist for your New Year's Eve gathering. Perhaps you'd love to jam all night to iconic party tunes all night, or maybe you prefer a round-up of all the best tunes of 2021 – either way, you can create an individual blend of tracks just for your party! Get guests involved and let them add or queue their favourite tracks (on Spotify, you can even make a collaborative playlist with all your friends!).
If this seems like too much hassle, you can browse loads of playlists for New Year's Eve made by other users. Check out these great choices from Spotify. Link your phone up to a portable speaker and ensure you have a good few hours worth of music to last you through the night – it's so easy and you can be dancing all night to your favourite tracks!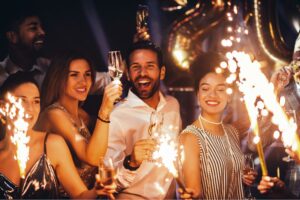 Splash out on your own Fireworks
Sadly, the London New Year's Eve fireworks have been cancelled for the second year in a row due to the pandemic. If you have the budget and the know-how, why not treat your party to some special New Year's Eve fireworks to ring in 2022? They might not be as huge and impressive as the fireworks at the London Eye, but you can still enjoy them together in your own home. Make sure you're staying safe and following all the required guidelines when setting off your fireworks, and stay conscientious of your community by avoiding setting them off late at night.
If fireworks seem a little excessive, treat your guests to some sparklers to celebrate the end of 2021! They're smaller, safer, and easier to do than large fireworks, but you can still capture some child-like joy with the simple fun of some small sparks. It'll be such a fun way to celebrate new year's eve at home!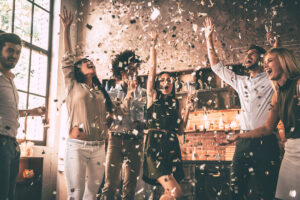 Clara Heffernan
View more tips from Clara Heffernan