SHARE
Top Tips for Hosting the Best Christmas Day
A big Christmas gathering is so much fun for the whole family – a chance to catch up, exchange presents, and share memories together. However, if you're organising the big day at your house, it can quickly become tiresome to provide food, drinks, and entertainment to a whole host of guests! But there's no need to worry; we've gathered together some useful hints, tips, and tricks to ensure that your Christmas day goes as smoothly as possible. After all, you deserve to enjoy the big day too!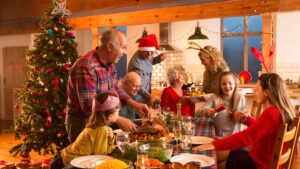 Preparation is Key
Preparation is an absolute must when it comes to event planning. When the big day finally arrives, you'll be so grateful that your past self decided to prepare as much as possible in advance. Preparation applies to all aspects of the day – for example, when it comes to Christmas dinner, have as much as possible done the night before so that you can just pop things in the oven when your guests start arriving. Similarly, get your decorations and table settings sorted the night before to avoid having to run around on Christmas morning searching for napkin rings.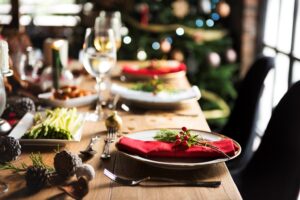 Divide and Conquer
Christmas is likely to be your biggest hosting challenge of the entire year, so it's all hands on deck to get the day running smoothly. Get the whole family involved to ensure you don't end up burnt out before everyone even arrives. Make sure you give out age (or skill) appropriate tasks.
Worried about your husband burning the turkey to a crisp? Place him on drinks duty, so you have one less thing to worry about. Similarly, send young children around with bowls of crisps or hors d'oeuvres to stop everyone from getting too hungry before dinner. Don't battle the whole day on your own – it's a group effort!
Keep Everyone Entertained
If you run into issues like burnt food or a seating arrangement crisis, everyone will be much more amenable if they are relaxed and entertained. Before everyone arrives, make sure there is music playing, perhaps a film on the telly, and plenty of crackers or board games for people to preoccupy themselves with. If you're expecting kids, make sure you have some colouring supplies out or plenty of toys to keep them busy while the adults catch up over a drink. Your guests will be grateful to have a break from assembling complicated toy sets for a while!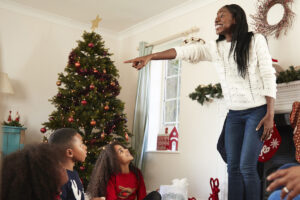 Anticipate the Needs of your Guests
The secret to being a great host is knowing your guests' needs before they even tell you. If you have guests arriving with a young baby, make sure there's a free quiet room where they can breastfeed or change nappies away from the hustle and bustle of the party if they need to. Similarly, make sure everyone knows where the bathroom is; even better, pop up a sign so it's super clear and people don't get lost!
These tips may seem obvious, but you'd be surprised how many hosts just assume their guests will figure this stuff out. Your guests will feel much more comfortable in your home if you show that you're thinking of their needs.
Keep a Room Free
Although you might be hoping to have everyone gone by the end of the night, we know that it doesn't always work out that way after a party. With plenty of alcohol and revelry, people can get a little carried away at Christmas, so it might be a good idea to keep a room free for a surprise guest if you have the space for it.
Make sure you have food in the fridge for a sobering full English the next morning (to help you or your guests with the hangover). It may seem taxing, but you'll go down as a phenomenal host if you offer a room off the cuff and take care of some of your guests the following morning too.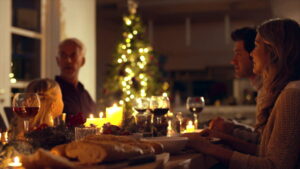 Accept Help Wherever you can Get it!
If you're worried about struggling with so many mouths to feed, don't be afraid to accept some assistance. If someone offers to do dessert or bring along a side dish, accept their offer and thank them wholeheartedly – it's no use being too proud and then regretting it when you're swamped on Christmas day. Similarly, when dinner is finally done, let someone else get on with the washing up while you take a well-deserved rest. There have to be some perks to taking on host duties!
Clara Heffernan
View more tips from Clara Heffernan