SHARE
10 Affordable Statement Sandals that won't Break the Bank
As summer approaches, you might be thinking of adding some new pieces to your wardrobe for the next sunny getaway or bank holiday weekend. But how can you splurge on summer fashion staples while sticking to a budget? Thankfully, we've rounded up 10 affordable statement sandals that won't break the bank, so you can liven up your wardrobe with these options, all coming in at £20 and under!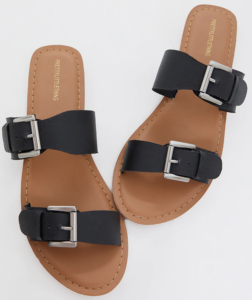 These simple but classic sandals are a holiday must-have. Whether you're strolling to the nearest beach or exploring the city's sites, these sandals will keep you cool and comfortable all day. Even better, they're made from real leather, so they will last well and won't dig into your feet after a long day of walking!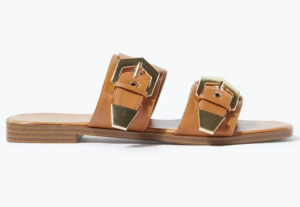 Matalan's affordable summer sandals are a versatile option for day and night looks. The buckle detailing adds a chic flair that elevates the sandals to look super expensive. Dress them down with shorts and a top for a casual look, or style with a dress for the perfect dinner outfit.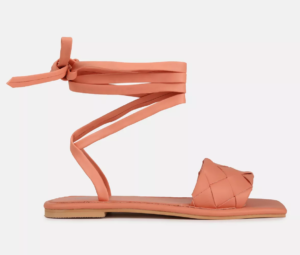 These peach sandals will add the perfect pop of colour to any of your summer looks, not to mention the tie-up detail is so flattering. The woven strap is unique, so you'll definitely stand out among the crowd! At just £19, plus up to 45% off with a student discount, these are too good to pass on.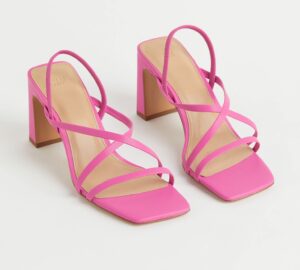 These statement sandals a clear choice for a girl's night out in summer. These bright heeled sandals are perfect for dinner and drinks on the beach – just style them with a neutral skirt and top combo or an oversized blazer for an on-trend going out look.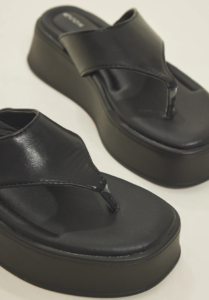 Flatforms are the sneakiest way to add a few inches to your height without anyone realising. These black flatforms are perfect if you want to feel a little more statuesque while hanging around the pool or beach. Plus, they don't put a strain on the arches of your feet like a regular heel does, meaning you can feel taller without the pain of high heels!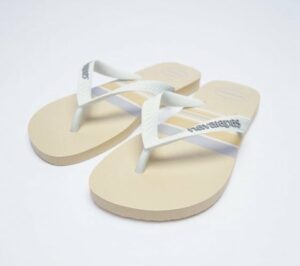 If you're looking for top quality sandals at a reasonable price, look no further than the Zara collaboration with Havaianas. Available in pink or white straps, these simple flip flops are perfect for chucking in your beach bag or car for a trip to the coast. Havaianas are known for their great quality, so these flip flops should last you a lifetime.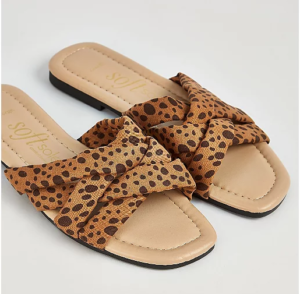 Shopping in supermarkets for your holiday clothes may seem like an odd choice, but stores like Tesco, Asda and Sainsburys are working really hard to keep up with the latest trends while staying affordable and attainable. These dalmatian print sandals are a great example of a wearable but trendy sandal that can suit anyone. Just the small print detail makes these sandals unique without making them too loud, so you can rewear them for loads of summers to come!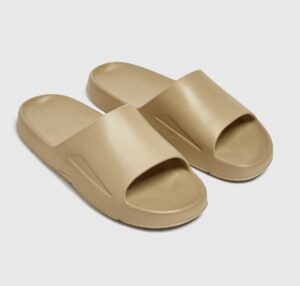 Inspired by the Yeezy 2022 summer range, these rubberised sandals are perfect for anyone wanting to keep up with the latest trends while lounging by the pool. Stay comfortable while making a statement with these rubberised sandals from Pull & Bear – style them with a neon bikini for the ultimate summer 2022 statement!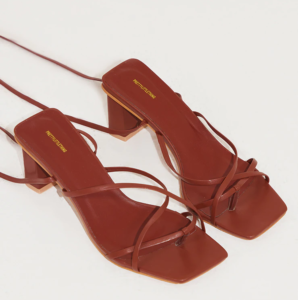 These heeled sandals are another great going-out option for any holiday. With a small block heel, these sandals will add a hint of glamour to your look while still being comfortable enough to walk in for a long time. Pair these with a simple midi dress for a timeless look that radiates effortlessly chic vibes.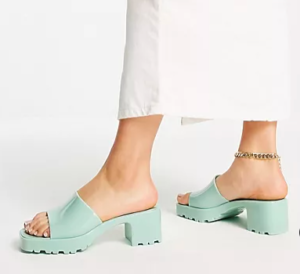 The jelly sandal trend is here to stay this summer, so join in with these fun but classy sage green sandals! Versatile enough to wear the beach or out to dinner, these are the perfect summer shoes to chuck into your suitcase and wear with anything. Plus, if you're new to ASOS, you can use code HIFRIEND to get up to 15% off your first purchase!
Clara Heffernan
View more tips from Clara Heffernan