SHARE
10 Ways to Use Hairspray in your Routine
You might use a can of hairspray to smooth down some flyaways or keep an updo in place all night, but did you know that there are a ton of other easy ways you can incorporate any simple strong-hold aerosol into your getting-ready rituals every day? To help you out, we've compiled 10 ways to use hairspray in your routine – so check out this list to see what tips you love!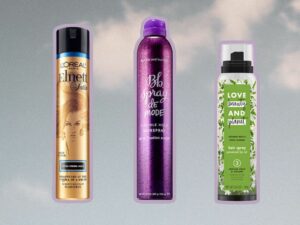 Quick Laddering Tights Fix
In a rush on the way to work and you realise your tights have laddered? It's happened to the best of us – but hairspray can help you out! It can't fix the ladder itself, but a light spritz of hairspray will stop it from getting worse and save you from the small ladder turning into a huge one. Carry a small can of hairspray in your work bag to rescue you next your tights let you down.
Setting a Face of Makeup
You might have heard this one before, but hairspray can be a great substitute for setting spray when you're out and about. Go for a light spray across your whole face to ensure your makeup stays in place for the whole night. This works great in a pinch, but try to avoid using it every day – your pores will not thank you for it!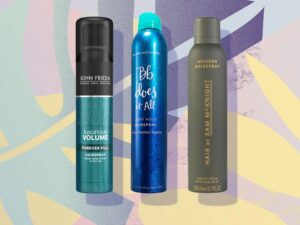 Holding those Eyebrows in Place
This might seem like a wild one, but hairspray can hold your eyebrows in place just the same way that you can use it in your hair. Obviously, don't just spray the can directly into your eyebrows – this will definitely leave you in tears. Rather, spray some on a spoolie brush and run it through your brows to achieve the desired style. You'll find your brows stay in place all day!
Getting Rid of Static
Do you ever find that your silk or satin skirt won't fall right and keeps clinging to your legs? This is because of static energy, and hairspray is the perfect remedy. Spray a small amount on your hands and run them over any static clothing you have to ensure it falls perfectly.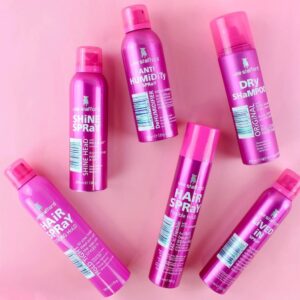 Achieving the Perfect Manicure
This one is so quick and easy – you'll be surprised you hadn't thought of it before! After painting your nails, spray a light coat of hairspray over each fingernail from about 10 inches away. Wash your hands after 10 minutes and Voila – your polish will be set and will last all day and night.
Getting Shoes to Fit
Struggling with a pair of heels that are slightly too big for you? It happens all the time, so if you're worried about slipping out of your shoes while you're trying to dance all night, we have the perfect solution. Spritz some hairspray on your feet before sliding into your shoes – you'll find they stay put for way longer, and you won't need to worry about any Cinderella moments at midnight!
Lacing your Trainers Properly
After a long time, your most beloved trainers can get really worn and the laces can become loose. If you want to keep wearing your favourite kicks but find they won't stay put like they used to, just give the laces a quick spritz of hairspray once they're tied. They'll get rigid and stay tighter for longer.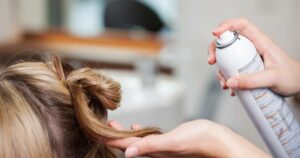 Pinning your Hair up
Okay, it's obvious that hairspray will hold up a hairdo, but do you find that hair pins tend to slide out of your hair after a long day? Try this simple hack to make them stay secure in your hair for hours on end. Spray them with some hairspray before sliding them into your hair – your hairstyle will last for as long as you do!
Banishing Red Lipstick Stains
Red lipstick on your favourite shirt – an absolute nightmare! But it doesn't have to be if you have a can of hairspray to hand. Just spray some on the stain, leave it for a few minutes, then wipe off. If the stain isn't totally removed, toss it into the washing machine straight away and it should come out in the wash thanks to the hairspray.
Keeping your Shoes Shiny
Have you ever spent ages polishing your shoes only to find the shine goes away in a day? With a light spritz of hairspray after polishing, the shine on your shoes will last way longer, plus it will keep your shoes better protected from scuffs and marks!
Clara Heffernan
View more tips from Clara Heffernan