SHARE
The Hottest Trends Coming in 2022
2021 – the year of 70s hair, tiny handbags, bold blazers and even bolder knitwear. But it's a new year already, and we're bringing you the hottest trends coming in 2022. Trend cycles move fast, and to keep you up to date with what's coming in 2022, we've drawn up a list of all the best home, beauty and fashion trends likely to sweep the new year. Wherever possible, make sure that you're updating your existing style in sustainable ways or try to shop second-hand for something to reinvent. Remember, being eco-conscious never goes out of fashion!
Pretty Pleats
We already saw pleats creeping back into the trend zeitgeist in 2021 with the popularity of tennis skirts and sporty skorts, but in 2022, they're coming back in a big way. Already seen gracing the runways of Alexander McQueen and Burberry, pleats are your new spring 2022 must-have. Bored of the good girl look? Don't be afraid to push the boat out with pleats by pairing your cutesy tailoring with a boxy blazer or leather jacket. A swipe of bold lipgloss or a graphic liner can take a pleated skirt from frumpy to fashion-forward in the blink of an eye.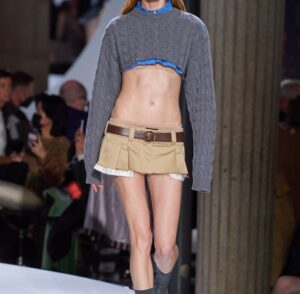 Rising Hemlines
As we emerge from almost two years of sitting indoors, cancelling parties, and keeping our distance, the world is ready to get a little more daring in its fashion. Mini skirts have been gradually coming back into trend amidst the noughties resurgence, and 2022 is going to be their year in the sun. This spring and summer, embrace the mini skirt again and if you want to go even further, opt for sequins or bold colours for the ultimate post-Covid party look. 
Going Green
For the interior designers amongst you, it's time to pick up your paintbrushes. A new year means a new wave of home trends, and this year, we're all green with envy. This trend has been in the making ever since we saw Dakota Johnson's house tour for Architectural Digest and fell in love with her green kitchen. Bringing a bit of nature into your home is the hot new thing, and a lick of green paint is the way to do it. For maximum effect, don't be afraid to lean in with a really bold emerald; when accentuated with pops of bright colour or copper tones, you'll have a room ready for its own Architectural Digest cover.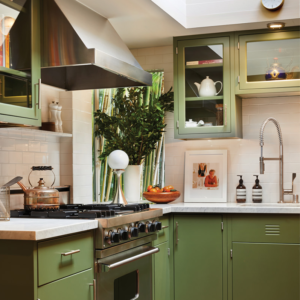 Bleach Those Brows
Okay, this one is definitely not for the faint of heart, but bleached brows are getting ready to be big. Already seen on trendsetters like Iris Law, bleached brows are the coolest way to capture some attention and stand out. Not sure you can pull this one off? We recommend mixing it with some really bold makeup looks – think graphic liner, dewy skin, and 'Euphoria'-esque party looks. If you're too scared to take the plunge, use a spoolie and some heavy-coverage pale concealer to test it out and see what you think. Set with translucent powder and your bold brows will be in place all night!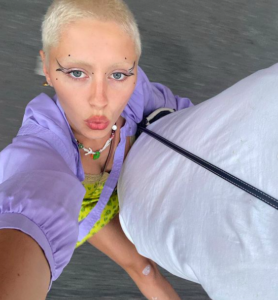 Bold and Beautiful
After a long-lasting adoration for Scandi-fashion – pale colours, no patterns, clean lines – the world is finally waking up to colour again. Prada has opted for neon looks on the runway this year, while Carolina Herrera has delivered sublimely clashing bright pinks. But bold isn't limited to just a colour palette in 2022; Gucci goes for tulle, Fendi for all-over monogram-print, Marques Almeida for netting – texture and experimentation are on the agenda for 2022, and we can all join the ride. Try out an avant-garde tulle skirt with some rugged accessories if you're ready to step into 2022 feeling like a style icon and don't forget – fashion is always about pushing limits.
Noughties for Now
Missy Elliot, the Spice Girls, flip phones – the noughties gave us so much, so why not relive it through your wardrobe this year? Yes, the Y2K resurgence has well and truly begun, and we're ready to welcome it with open arms. Perhaps there are some trends you would rather leave behind (dresses over jeans, we're looking at you…), but indulge in some low-waist looks, butterfly crop tops, and belly chains as a fun homage to the decade that gave us so many great memories.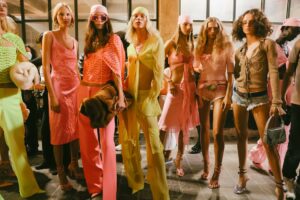 The Bigger, the Better
Much to the relief of girls who like carrying more than one lipgloss with them, the era of the tiny bag is over. Wave goodbye to the Jacquemus tiny bag and say hello to convenient holdalls. If you're unsure of how big to go, think back to the noughties – could Paris Hilton carry a chihuahua in this bag? If the answer is no, it's probably not big enough. But don't worry, this is likely to be a sound investment – bulky totes are already being seen on the runways of Max Mara, and they look set to sweep across fashion houses in 2022. 
Clara Heffernan
View more tips from Clara Heffernan