SHARE
Top 10 Beauty Organisational Tips for Small Spaces
Being a beauty fanatic is so much fun, but having a whole load of skincare and makeup products can take up a lot of space in your home. We all know the horror of coming home after a night out to a bedroom floor covered in makeup, clothes and hair tools – good storage is the way to avoid these midnight stresses! Thankfully, we're here to save you some room with our top 10 beauty organsational tips for small spaces.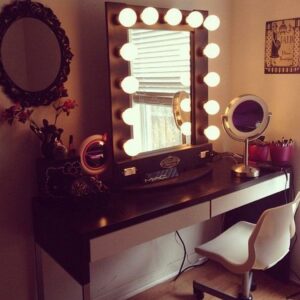 Clear out your Existing Area
The most important step to organising your beauty space is to have a big clear-out. You have to streamline your makeup collection if you're working with a small area. Those neon lipsticks you've been holding on to that you secretly hate? Chuck 'em! The moisturiser that made you break out into severe hives? Bin it! You don't need to toss everything, but be ruthless and make sure you are only holding on to products that you really intend to use.
If you're worried about things going to waste, pass them on to a new loving home. Provided that they're sanitised and not expired, you can offer it to a friend or family member who will get way more use out of it than you did.
Check the Expiry Dates
It's not commonly known, but makeup and beauty products expire just the same way that food does. The little symbol on the bottom with a number in it displays the number of months you can use the product for before it becomes potentially harmful to your skin. Pay special attention to products that go near your eyes or mouth – you definitely don't want those products to be out of date!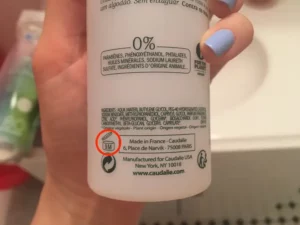 Organise into Categories
It's really important to organise your products into different categories to avoid chaos when it comes to getting ready. Even with just a small amount of space, you can divide up your products into the basic categories – skincare, makeup, and hair. Whether it's different drawers, different sections or just a few separate areas on your dressing table, this categorising will keep your beauty station calm and clear as you get ready.
Prioritise your Sections
Not only is it important to organise your products, it's also important to think about the way you use them. Some products get used every single day, such as cleansers, moisturisers, or foundations, whereas exfoliants, spot creams, or bold eyeshadow palettes are only reached for on some occasions. To reflect this, ensure that you have easy access to your most-used products, then keep your less-used choices nearer the back.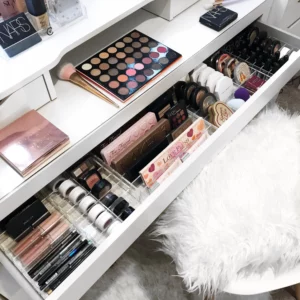 Allow for Spills
As much as a makeup station should be a place for beauty, it can definitely get a little messy sometimes! With potential foundation spills, eyeshadow fallout, or mascara smears, it's key to keep your area clean and sanitary wherever possible. If you can, it's helpful to cover your beauty station in a cloth or cover to keep it as clean as you can. Similarly, before you begin any ambitious makeup looks, maybe pop down a towel onto your chair or floor to keep it tidy and clean. This may not seem important, but an area looking clean will make it feel so much bigger!
Hang your Extras
If you're running out of surfaces or drawers, consider looking up to your walls for more storage! Using floating shelves, hooks, or even magnetic strips against a flat wall can be so useful for hanging jewellery, makeup brushes or tools. The added storage will make a huge difference and you'll feel like you have so much more space on your table. Find loads of options here.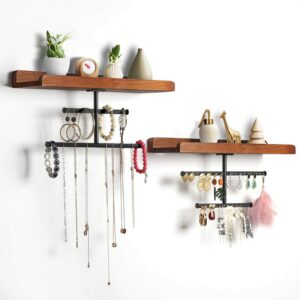 DIY a Makeup Brush Holder
Your beauty area can quickly become super messy when your makeup brushes are scattered all over the place, so make sure you have a dedicated pot or holder to keep them all organised. It'll keep your space clean and tidy, as well as ensuring your brushes remain sanitary rather than picking up germs from your desk. You don't need to spend a fortune on a brush holder either – a simple jar, mug or pot that you already have will make a great container!
Add Extra Lighting
Good lighting is an absolute necessity to ensure your makeup looks radiant and natural. If you can't place your desk near a window with good natural lighting, add some of your own! Strip lights or fairy lights are a cheap way to add some glamour to your area and make sure you avoid any cakey foundation or blotchy blusher!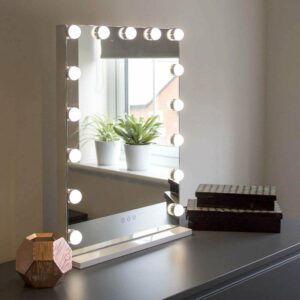 Invest in a Quality Vanity Mirror
Similar to your lighting, a high-quality mirror can be the difference between an average makeup look and a stunning one. Make sure that your mirror is large enough to suit you – it's impossible to do a cohesive makeup look with a compact mirror! This budget-friendly one from Dunelm is a great option. Make sure it's also as clean as possible. Smudges and splatters all over your mirror will make the space look messy, so keep some glass cleaner handy at all times!
Add some Decorative Touches
It's important that your beauty space feels clean and spacious, but it's also important that it feels like yours. Even if it's just a few touches, you want your area to feel unique and personal, rather than just like every other beauty space. Photos of friends, special memories, maybe even some fresh flowers – make the space your own!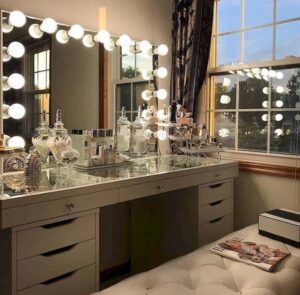 Clara Heffernan
View more tips from Clara Heffernan