SHARE
12 Ways to Save Money on your Weekly Food Shop
With the cost of living rising by the day, you might be finding that your money isn't going as far as it once did. If you find that buying your groceries is putting a dent in your wallet every week, we've got 12 ways to save money on your weekly food shop. Read on to find out how to save money on your groceries today!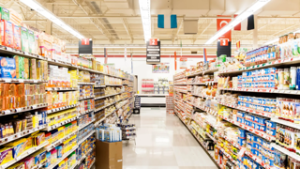 Plan, Plan, Plan!
The most expensive way to do your grocery shopping is to wander around and grab whatever you fancy off the shelves without any list or plan for what you need. If you're looking to keep your costs down, the smartest thing you can do is plan your meals for the week ahead, then write a concise list. This way, you'll know exactly what you need when you walk into the supermarket, saving you time and money!
Consider an Online Shop
Similar to writing a shopping list to avoid unnecessary purchases, an online grocery shop is a great way to get exactly what you need without any distractions. No sneaky bags of chocolate or crisps on special offer to tempt you as you walk down the supermarket aisles – just the necessities, nothing extra. You'll save yourself a trip to the shop, meaning you can most likely cut down on petrol costs too – what's not to love?
Timing is Everything
Think carefully about when you choose to do your weekly food shop – it could be making a surprising difference in your spending! Obviously, if you have to work around school runs or work schedules, it can be difficult to organise, but it can be worth it. The best time to shop is in the run-up to closing time, which is normally around 6 pm to 8 pm. At these times, supermarkets tend to reduce a lot of items to get rid of them before the day is over, so shop around these times whenever possible.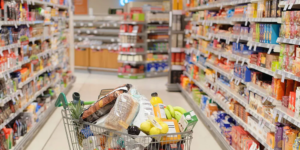 Avoid the Big Brands
It is a simple tip that you likely know, but big brands are often so much more expensive than their own-brand counterparts for no real reason. With most household essentials, like cleaning supplies, baked goods, or cupboard staples, you can opt for the cheaper alternative and rest easy knowing that you could be saving up to 38% on your weekly shop!
Avoid Smaller Shops
It may be convenient, but popping to your local convenience store is a quick way of spending way more than you need to on a weekly basis. Smaller shops can't provide the discounts that big supermarkets can, so wherever possible, ensure that you limit your grocery purchases to a big weekly shop.
Choose your Supermarket Wisely
It may seem obvious but think carefully about where you are doing your food shop every week. Check out this helpful comparison of all the biggest supermarkets in the UK and think about what you could be saving. Even if there's a Waitrose just down the road, it may be a better choice to walk that little bit further to Lidl or Asda to save yourself some extra pounds!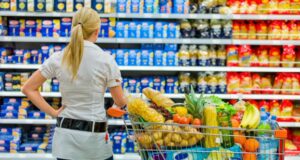 Don't Shop While Hungry
You might not have realised it before, but shopping while hungry can often lead to some extravagant and unnecessary spending. An increased appetite can result in impulsive purchases, particularly of overpriced, big-brand goodies. Make sure you head to the shops when you've had a big meal to ensure you don't pick up loads of snacks and extra food that you don't need!
 Look for Reduced Items
Be sure to look out for the cheapest possible options by browsing the reduced foods section. Supermarkets often price down food that is a day or two away from expiry, despite it being perfectly edible and safe. If you have a meal planned for the same evening, there's nothing wrong with taking advantage of some good reductions!
Similarly, lots of supermarkets price down fruit and vegetables that are misshapen or oddly sized. This 'wonky' produce tastes just the same as any other normal fruit and veg, but is a fraction of the cost. If you're chopping everything up anyway, it doesn't even matter what it looks like, so be sure to save money by opting for wonky veg!
Buy less Meat
This is a more general money-saving tip, but brushing up on some delicious meat-free meals is a great way to save money and diversify your mealtimes. Meat is probably the priciest part of your food shop, so try cutting down on it for a few nights a week. It's a great way to try new meals, plus veggie dinners can be a healthier option than many meals containing meat. Check out some options here and try something new this week!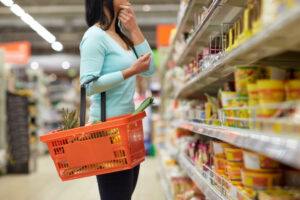 Join Reward Schemes
Make sure that you are signed up for any reward schemes, coupons, or cards that you can get at your local supermarket. Tesco Clubcards can reduce your final shopping bill a huge amount, and a My Waitrose card offers customers exclusive discounts on unique items every week. Take advantage of these schemes wherever possible and you can save a ton!
Make use of your Freezer
Doing your weekly food shop will be a lot easier if you make full use of your freezer. This way, you can buy discounted products that are near their expiry date, but prolong their shelf life by popping them straight in the freezer once you are home.
Similarly, bulk buying frozen fruit for smoothies or frozen veggies for quick weeknight dinners can save you money and space in your fridge, so head to the freezer aisle and take advantage of what's on offer!
Try to Eat Whole Foods
This advice depends on how much time and cooking skill you have, but it is often cheaper to buy raw ingredients and use them to create inventive dishes rather than buying pre-prepared dishes that can be put in the microwave or oven. After the initial expenses of spices or other basic cupboard staples, you'll find yourself saving money and improving your cooking skills over time!
Clara Heffernan
View more tips from Clara Heffernan