SHARE
5 Simple Steps to Having an Inexpensive Spa Day at Home
A trip to the spa is the best way to unwind after a long and stressful week. However, these zen-filled retreats never come cheap – even just a few treatments can result in a huge bill. Thankfully, we have compiled the ultimate guide to creating an at-home spa filled with tranquility, serenity, and peace. Read on for 5 simple steps to having an inexpensive spa day at home!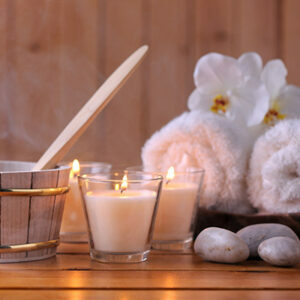 Step 1 – Set the Mood
The key to creating a spa environment is a soothing environment. This means everything you see, hear and smell should provide you with an overwhelming sense of calm. For the most soothing music, head over to Spotify for the best spa playlists. Even better, if you want to enjoy your music ad-free, use this opportunity to try out the Spotify Premium 3 month free trial. 
So once you have your music sorted, ensure that you have some nice low lighting – perhaps some candles or lamps. This gentle lighting will create a soft, relaxing ambiance that you can truly unwind in. Even better, by choosing to light some scented candles, you can enjoy your favourite scent while you relax.
Step 2 – Prepare a Relaxing Bath
It is proven that a long soak in a hot bath is one of the best and quickest ways to relieve tension and reduce your stress levels. Luxurious bath products can often be expensive to buy, but there's no need to splash out – you can achieve a sophisticated bath experience without breaking the bank. You can make your own bath salts by combining equal parts Epsom salt, sea salt, and baking soda. Then just add a few drops of your favourite essential oils – rosemary and lavender are a perfect stress-relieving blend.
You may need to pop to the shops to pick up some of these ingredients, but you'll be able to enjoy your homemade bath salts for a long time at a fraction of the price of a store-bought bath product. If you package them in a cute mason jar with a ribbon, you can even share them as gifts with your friends.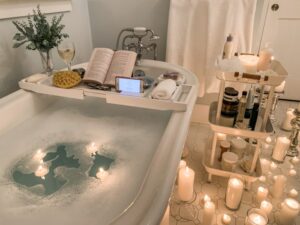 Step 3 – Enjoy your Treatments
The best part of a spa weekend is undoubtedly the amazing feeling you walk away with after having so many treatments done. But there's no reason you can't feel this way after an evening of self-care at home! Whether it's doing your nails, resting up with a nice face mask, or a deep-conditioning hair treatment, ensure that you choose the treatments that make you feel truly content and taken care of. If you don't want to break the bank, check out the best skincare and beauty bargains available on Latest Free Stuff here.
If you don't want to splash out on new skincare or hair products, there are plenty of free options you can make at home. Before any treatments, it is great to open up your pores with a gentle steam or a warm face cloth for five to ten minutes. To create a soothing oatmeal face mask, mix together 8 tablespoons of warm water, five tablespoons of dried oats, two tablespoons of plain yoghurt, and one small egg white. Apply this mixture to your entire face and let it sit for 10 to 15 minutes, then rinse off with warm water. This mask is so simple to make and will soothe your skin, leaving it refreshed and brightened.
Step 4 – Keep it Chilled
After completing your skincare routine, a great way to tighten your pores and reduce the appearance of lines and wrinkles is with some ice therapy. Simply massage your face with some ice wrapped in a cloth, paying special attention to the undereye area and jawline. You'll immediately notice a brighter and more radiant complexion. When done more frequently, ice therapy should yield some amazing results, such as skin remaining youthful and clear.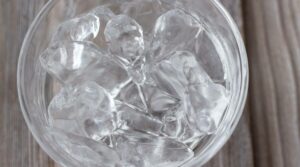 Step 5 – Treat Yourself
Once you are feeling completely zenned out, the rest is up to you! However you choose to finish your spa evening, be certain that it is an activity that brings you joy – whether that's watching your favourite movie, making some delicious food, or calling a friend for a chat, just ensure you're feeling chilled out and peaceful.
Clara Heffernan
View more tips from Clara Heffernan