SHARE
Top 5 Autumn Soup Recipes for Those on a Budget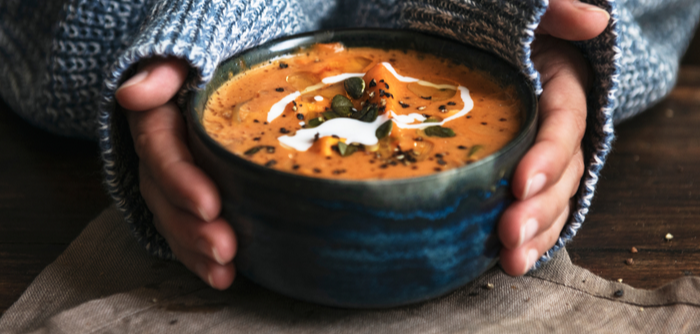 Autumn has fallen upon us, as has soup season – those warm, delicious bowls of joy that we all look forward to every year. And we're here to prove that you can make those oh-so wholesome soups even when you're on the teeniest of budgets.
Leek and Potato Soup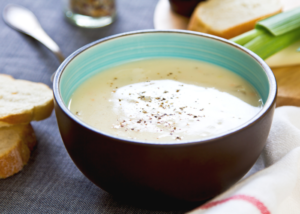 So simple, yet so delicious. Leek and potato flavour is one of our favourite soups, as you only need about 5 core ingredients and it's close to impossible to get it wrong.
Serves 6
Ingredients:
1 knob of butter
1 white onion, sliced
300g of potatoes, cubed
3 leeks, sliced,
1L of vegetable or chicken stock
200 milk
Salt and black pepper
To serve
Double cream or creme fraiche, if desired
Method
– Put the butter in a pan then wait until melted. Then add the onion, leek and potato, season well with salt and black pepper, and cover for 15 minutes.
– After that, add the stock and milk, cover and let simmer for another 20 minutes or until vegetables are soft.
– Now, with a potato masher, mash the ingredients into the soup until not quite smooth with a few lumps. If you like a smoother soup, you can choose to liquidate it with a blender.
– Add a swirl of cream or crème fraîche before serving.
2. Pumpkin Soup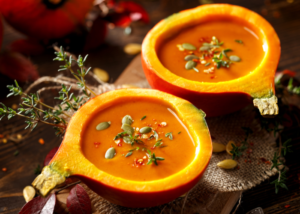 Pumpkins aren't just for Halloween – they're also brilliant in soups! Filled with lots of fantastic vitamins, this soup is both healthy and tasty.
Serves 4-6
Ingredients:
2 tbsp olive oil
2 white onions, finely chopped
1kg of pumpkin, deseeded and chopped into chunks
650ml vegetable stock
140ml double cream
Best served with fresh crusty bread or croutons
Method:
– Heat the olive oil in a large pan and gently cook the onions for about 5 minutes, until nice and soft but not coloured.
– Then, add the pumpkin to the pan and carry on cooking for around 8-10 minutes. Stir it occasionally, waiting until it starts to turn soft and golden.
– After that, pour all of the vegetable stock into the pan and season with salt and pepper to taste. Bring it to the boil and simmer it for 10 minutes – until the pumpkin is very soft.
– Pour in the cream, bring it back to the boil, then grab a hand blender and puree it. If you like your soup very smooth you can pour the soup through a fine sieve.
– Serve hot with crusty bread or croutons!
3. Simple Chicken Soup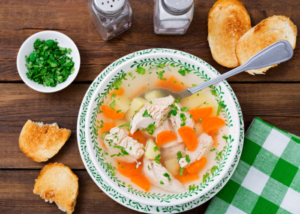 Simple – yet delicious, this hearty chicken soup is enough to warm anybody's cockles.
Ingredients:
2 tbsp extra virgin olive oil
Italian seasoning
60g Chicken thighs
140g Spinach
400g Fire-roasted tomatoes
250g Spiral pasta
500 Chicken stock
1 Lemon
Salt and pepper
Parmesan (for garnish)
– Start off by seasoning the chicken thighs with the Italian seasoning, adding a pinch of salt.
– Then heat the oil in a large pot over a medium-high heat and sear the thighs for five minutes on both sides.
– Pour in the chicken stock, tomatoes and pasta. Bring it to the boil and simmer for 10 minutes – until the pasta is al dente.
– Take out the thighs with tongs and shred them, then put them back in the pot. Wilt the spinach directly in the pot and squeeze the whole lemon in, too. Seasons to taste then serve – garnished with grated parmesan.
(Recipe from Bev Cooks)
4. Tomato and red pepper soup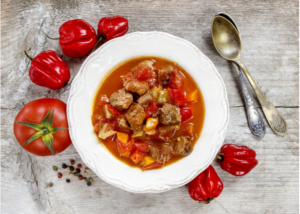 Mmmmm-mh! Who doesn't love a big, hot bowl of tomato and red pepper soup?! Super simple and easy to make, while still being tantalisingly tasty.
Ingredients:
2 tbsp olive oil
1 onion, chopped
2 large red peppers, seeds removed and roughly chopped
2 cloves garlic, chopped
600g ripe tomatoes, quartered
1 x 400g tin chopped tomatoes
1l chicken stock or vegetable stock
1 tbsp chopped fresh basil, to garnish
Extra virgin olive oil, to garnish
Method:
– Begin by heating the olive oil in a large saucepan, then saute the onions, peppers and garlic for five minutes.
– Add in the fresh tomatoes then cook them for 3 to 4 minutes.
– Then pour in the tinned tomatoes, the stock and 250ml of water. Bring this to the boil, reduce the heat and simmer it for around 30 mins.
– After, remove the saucepan from the heat and allow it to cool for a few minutes. Then, puree the mixture with a hand blender, strain it through a sieve and then, if desired, add a little stock.
– To finish, season to taste with salt and pepper, then serve, garnished with basil and a lovely drizzle of extra virgin olive oil – delicious.
5. Lentil and Bacon soup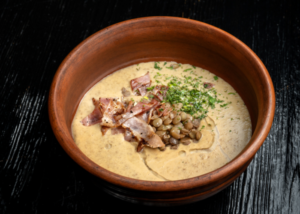 Incredibly tasty and packed full of healthy fibre, this soup has it all.
Ingredients:
1 tbsp olive oil
1 onion, diced
2 x 70g packs pancetta cubes
1 carrot (about 120g), finely diced
1 tsp ground cumin
½ tsp turmeric
2 garlic cloves, finely chopped
1 chilli, sliced
2 low-salt stock cubes
250g red lentils, rinsed
Method:
– Heat the olive oil in a large saucepan, then put in the onion, one of the packs of pancetta and the carrot. Cook this on a low to medium heat, stirring occasionally, for 10 minutes or until the onions are quite soft.
– After that, add the cumin, turmeric, garlic and chilli and cook for a further 1 or 2 mins.
– Pour in 1.25 litres of boiling water, crumble in the stock cubes and add the lentils. Bring to a simmer and cook for 20 mins, stirring occasionally to ensure the lentils aren't sticking.
– Meanwhile, fry the other packet of lardons in a small frying pan for about 10 mins until nice and crispy. You don't need to add any oil as plenty will run from the pancetta.
– Serve the soup with a sprinkle of crispy lardons on top.
Beauty and Home Club
Administrator
View more tips from Beauty and Home Club