SHARE
How to Create a Cheap Capsule Wardrobe this Spring
In the world of fast fashion, it's so easy to buy an affordable new outfit every single time you go out. But this habit might be costing you more than you realise in the long run, not to mention the damage it could be doing to the planet. A 'capsule wardrobe' is the innovative concept of a few staple pieces of clothing that you can mix and match easily to make classic, re-wearable outfits every day. 
Whittling down your wardrobe to just some key staples may sound daunting, but we guarantee that you'll end up saving money, space, and time getting ready in the morning! We've got some top tips on how to create a cheap capsule wardrobe this Spring that will last you a lifetime.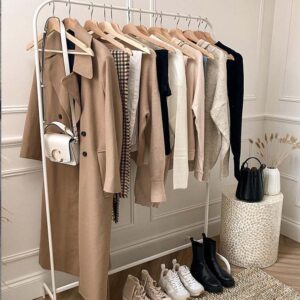 What is a Capsule Wardrobe?
A capsule wardrobe is a limited range of clothing and accessories that all complement each other, meaning you can create an endless range of stylish outfits that fit together and look stylish. 
These select pieces should generally be timeless and classic, rather than super trendy. This way, your capsule wardrobe will last forever without seeming dated. Similarly, the colour palette of a capsule wardrobe tends to be neutral, rather than full of bold patterns and colours, so that you don't have a problem with clashing when it comes to creating outfits.
Why Should I have a Capsule Wardrobe?
A capsule wardrobe has so many benefits to you and to the planet. In a society where up to 84% of clothing ends up in incinerators or landfills, it's really important to start thinking about the life cycle of the pieces we're buying. A capsule wardrobe cuts out the need for flimsy fast fashion purchases, streamlining your wardrobe to contain just staple pieces that you can re-wear time and time again.
You'll find that a capsule wardrobe will undoubtedly save you money in the long run, since clothing purchases should be less frequent and more thoughtful. Rather than flippantly buying a new top before every night out, you'll begin to see clothing as a long-term investment. By cutting out these unnecessary fast fashion purchases, you'll notice how much money you can save!
Lastly, you'll notice that creating outfits becomes far easier than it once was. Facing a huge mass of clothing choices every morning can definitely result in fashion fatigue – having more options doesn't necessarily make it easier to build an outfit! With a few versatile and buildable staples, your mornings will move a lot faster.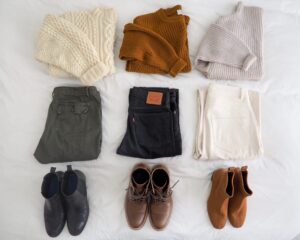 How Small should a Capsule Wardrobe be?
It is difficult to put an exact number on how many pieces your capsule wardrobe should contain. For some purists, roughly 20 pieces are enough for a solid capsule wardrobe, but if you're a beginner, we would recommend aiming for around fifty pieces. It may sound like a lot, but the average woman has over 100 items of clothing in their wardrobe, trimming it down to 50 might be more of a challenge than it initially seems.
Start with a Spring Clear Out
The most difficult part of this process for many of you may be letting go of some existing pieces in your wardrobe. It's important to streamline your existing wardrobe to ensure you only have items that you really love to wear; as you take out each item of clothing, ask yourself – 'when was the last time I wore this?' and 'when is the next time I will wear this?'. If you can convincingly answer both of these questions, it's a piece worth keeping.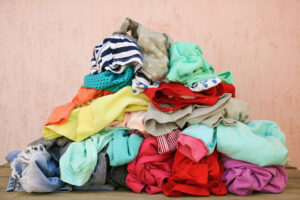 To make some extra money when you come to getting rid of some old pieces, why not sell them on? It's a super convenient way to make some extra money and give your clothes a new life with an appreciative owner! Check out our guide to second-hand fashion for some tips and tricks on fashion reselling.
Of course, you might want to keep hold of certain pieces that don't get a ton of wear – dresses for special occasions or swimwear, for example. These pieces obviously can be kept, but consider putting them in a different section of your wardrobe for storage. This way, these pieces are on standby when you need them, but they don't take up space in your day-to-day routine.
Take a Spending Break
Once you've cleared your wardrobe, avoid the temptation to buy a whole new pile of clothes to replace it! Take some time and consider what pieces you feel truly in need of. Just like any other addiction, it's great to break the buying habit for as long as possible to prove to yourself that you can survive without it. Once you come to buy a new item of clothing, it will feel like an intentional investment as opposed to an addictive urge!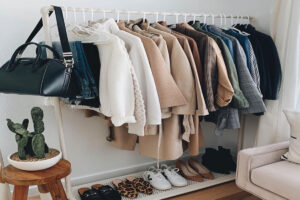 Don't Punish Yourself
Always remember that a capsule wardrobe is supposed to be fun and beneficial! If you love colours and patterns, don't just throw everything away and swap it for beige knitwear – keep your individual style alive in your clothing! As long as you slim down your wardrobe and make intentional and thoughtful purchases, you'll be well on your way to making a great capsule wardrobe.
Buy Wisely
When it comes to buying new clothes to go in your capsule wardrobe, versatility is the key thing to remember. Think of all seasons, climates and occasions to ensure you have outfits for any situation.
Typically, it helps to begin with some neutral tank tops, one or two pairs of denim jeans, and a few options of neutral layers to stay warm all year round.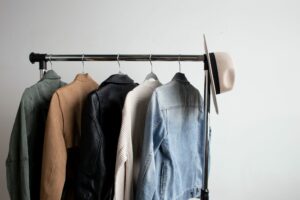 Make sure to think of your specific lifestyle and requirements for your wardrobe. If you work full-time in an office, you'll need to have some workwear options, whereas if you're a stay-at-home mum, opt for plenty of athleisure.
If in doubt, go for simplicity. Simple pieces can be re-worn and restyled in a million different ways, whereas bold, statement pieces will age quickly. A capsule wardrobe should reflect your personal style while also lasting you the whole year round!
Clara Heffernan
View more tips from Clara Heffernan